On Monday, 23 December 2013, BITS Alumni Association (BITSAA) proudly rang the NASDAQ opening bell in Times Square, NY, USA. This was an incredibly rare honor for BITSians and also a critical opportunity for us to showcase BITSAA as a family of world class leaders. Only a handful of educational institutions, like MIT and CalTech have been invited for such an honor.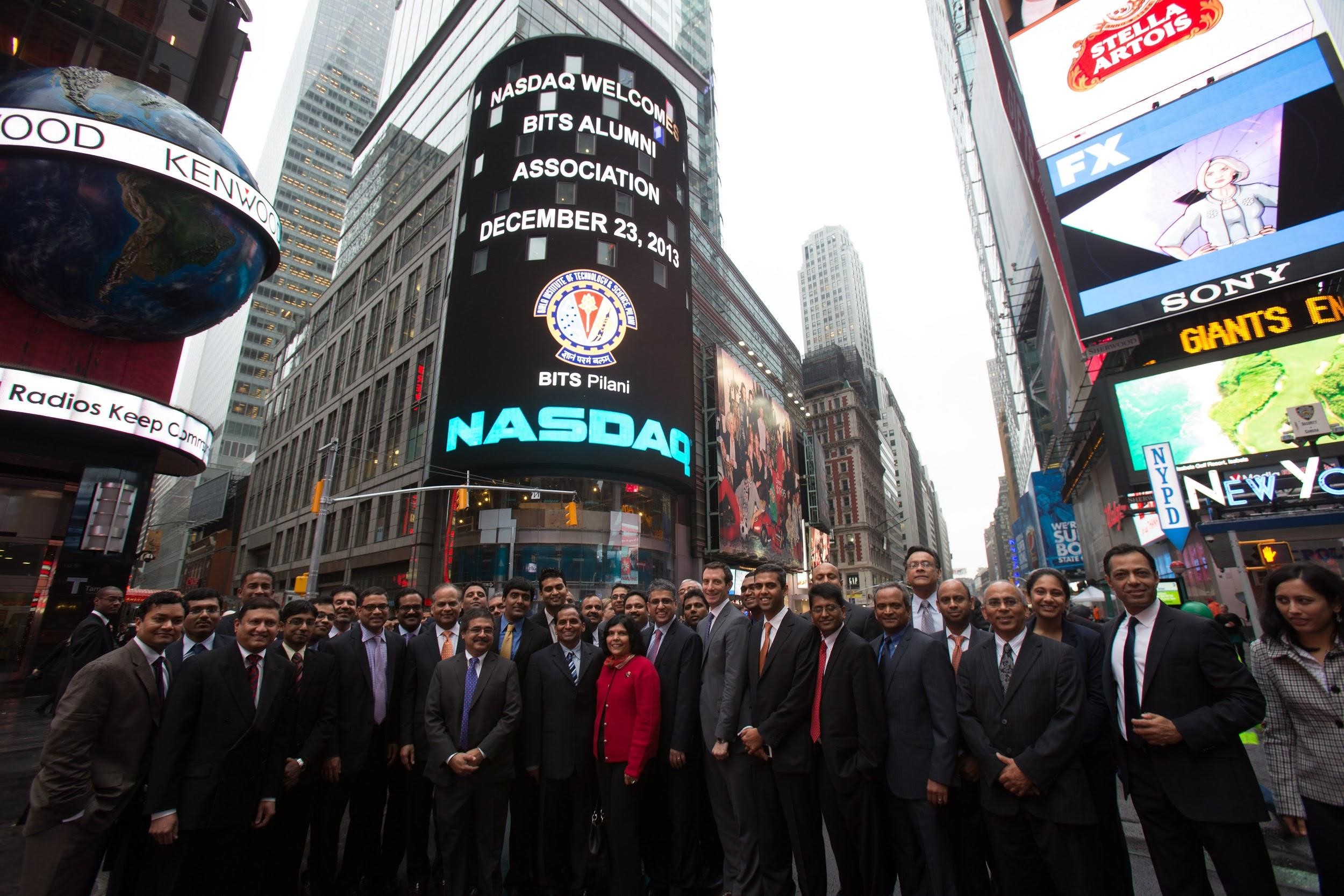 The Opening Bell Ceremony at the NASDAQ MarketSite in New York's Times Square serves as a platform to generate exposure for companies and nonprofits, make a news announcement or celebrate organizational milestones. Hosted by a NASDAQ OMX senior executive, the Opening Bell allows listed companies and invited non-profits to address a wide audience with specific messages. A common sight today is the highly publicized events in which a celebrity or executive from a corporation stands behind the NYSE podium and pushes the button that signals the bells to ring. Many consider the act of ringing the bells to be quite an honor and a symbol of a lifetime of achievement. This daily tradition wasn't always this highly publicized either. In fact, it was only in 1995 that the NYSE began having special guests ring the bells on a regular basis. Prior to that, ringing the bells was usually the responsibility of the exchange's floor managers.
2013-14 marked the 50th anniversary of BITS Pilani as a world class institute of technology and sciences. This ceremony was the curtain raiser for the celebrations and kick-off of second edition of the BITSAA Global Meet , held at the Hyderabad Campus from January 3-5 2014.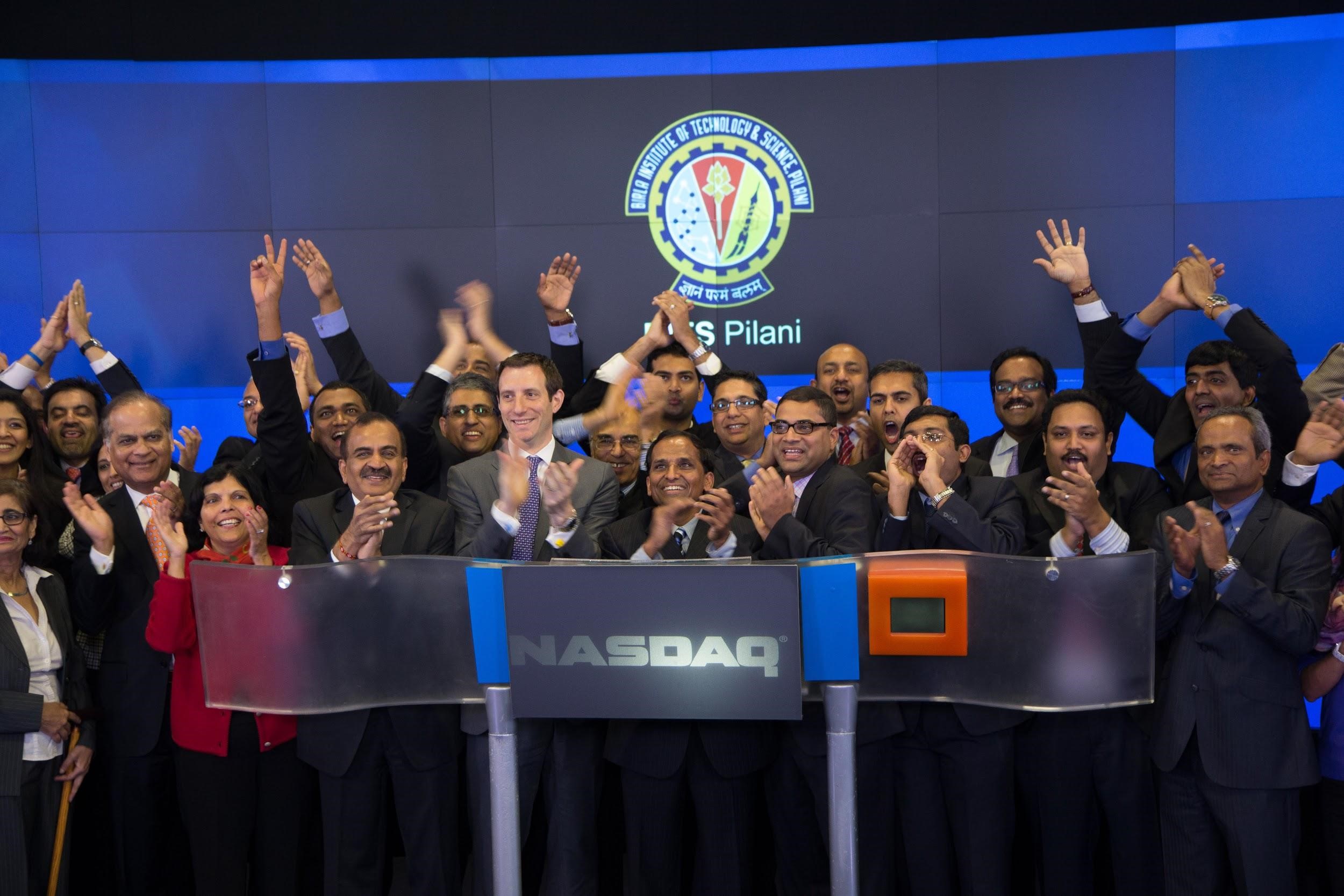 The great chance to ring the Opening Bell at NASDAQ was a proud moment for the entire BITSian community – The efforts of tireless BITSAA volunteers who have translated their passion for BITS into transformative projects over the years and the unflinching support of alumni like you, have made this event happen.
The event was broadcasted on several television networks like CNBC, Bloomberg, etc. reaching millions worldwide. This allowed BITSAA to showcase flagship initiatives thereby boosting awareness about BITSAA initiatives and uplifting the BITSAA brand to the ranks of world class universities who have participated before.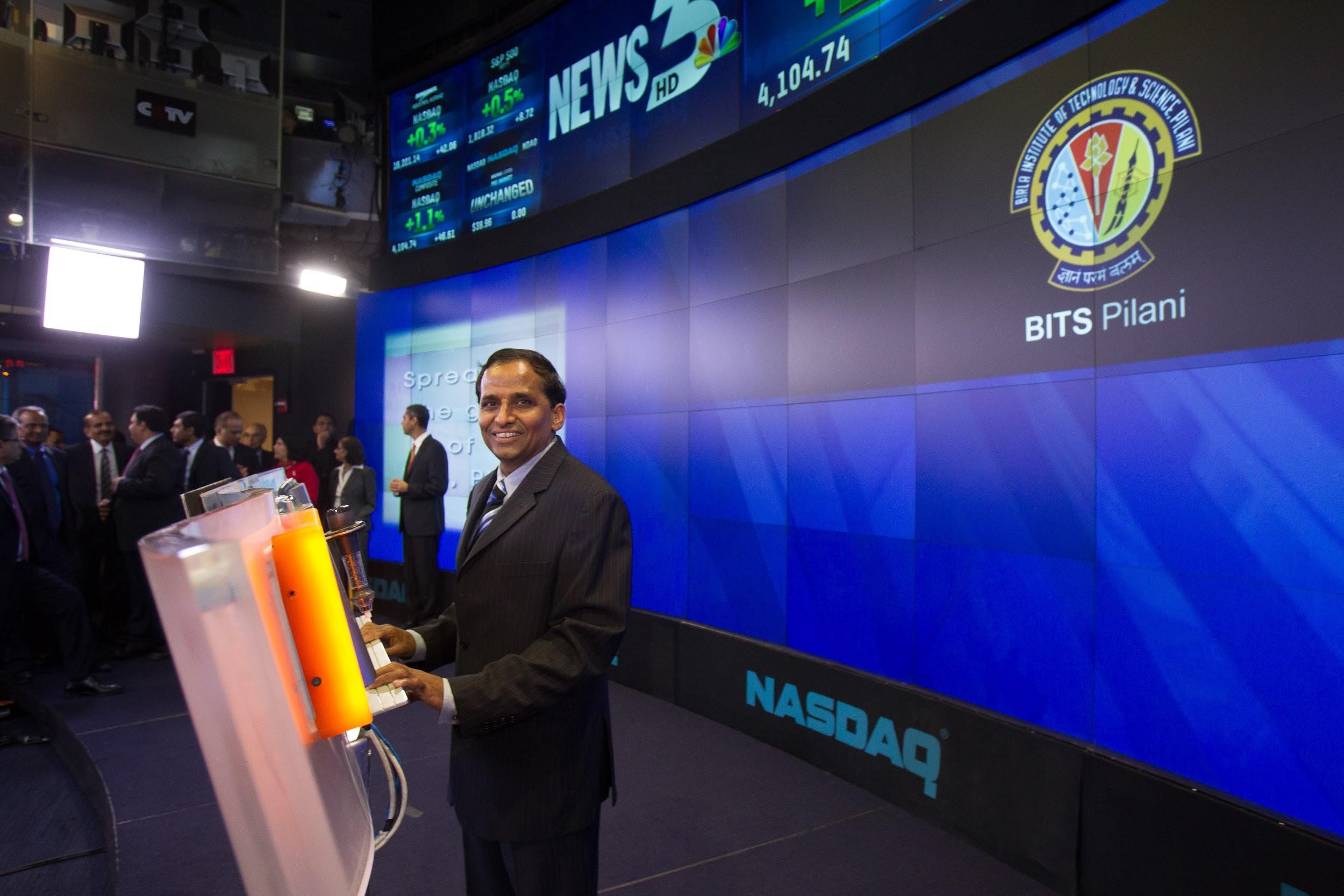 Mr. Raju Reddy, then chairman of BITSAA International, rang the opening bell, as he was joined by several dignitaries from BITSAA, industry leaders, businessmen and academicians. Speaking on the occasion, Reddy, from the BITS class of 1981, thanked NASDAQ OMX for hosting the event. Recounting his journey from India to the U.S. to obtain a master's degree and going on to found Sierra Atlantic, which was later acquired by Hitachi, Reddy said his "journey is typical of many of my fellow alums with whom I have the honor of sharing the stage today. Each of them is highly accomplished and a respected global leader in their field of work, thanks to the culture of openness and opportunity provided by America."
"It is indeed a privilege to celebrate the 50th anniversary of BITS Pilani by ringing the bell on Nasdaq today," he said. "BITS has a deep connection with the U.S. since its founding years. Mr. G.D. Birla, one of independent India's iconic industrialists and also the university founder, consulted then chairman of the MIT Board of Trustees and also the Ford Foundation to design programs that would make collaboration with industry an integral feature of our education…Today, BITS is one of the most selective universities in the world with only 1 in every 68 applicants admitted." Reddy said that many BITS alumni have been at the forefront of innovation and job creation in the U.S. as entrepreneurs and senior executives in some of America's best known companies, including several listed on NASDAQ, such as Akamai, Cisco, Cypress, Intelligroup, Ixia and SanDisk. "Our alumni are highly regarded for their path breaking research and teaching at leading universities such as MIT, Stanford and Princeton. Closer to Wall Street, BITS alumni are known for their pioneering work in banking and finance. We even have an Emmy winner amongst us. And a Mars Rover scientist, too."
Mr Reddy then pointed out the opportunity represented by a lot of alumni in both India and the US, lauding their innovation and the entrepreneurial spirit. He mentioned the BITS Spark  program that aims to nurture such entrepreneurs. He expressed hope that BITS, as India's #1 private University, is well positioned to become the next Stanford or MIT.
..
In an internal email to the organization, BITSAA CEO – Rohit Koul, expressed "special thanks to the Weekend Witchcraft team for creating the video that was played at the event; Vikrant, Kris, Raghav and the local BITSAA NY team for taking care of the on-ground logistics; Kalyan Krishnamani (CPRO, BITSAA), Kaushik (BITSAA Marketing Lead) and his team for apt marketing; Aditya Garg (BITSAA Chapter Relations) for driving social media and Aditya Sharma (BITSAA Technology) who seems to be perennially available for us.
Any report on the event would not be complete, without thanking Venu Palaparthi (Co-founder BITSAA Intl, OMX Exec & Dreamcricket fame) who made this happen; Atul Bhatnagar (CEO, Cambiam Networks) for getting on multiple calls & generously putting his PR machinery behind us and Sandeep Arora (Co-founder BITSAA & COO Knack Systems) for sponsoring the pre-event reception on the 22nd. The motley group of folks who assembled at NASDAQ have pledged USD 1 Million for BITS, to be raised in coming decade."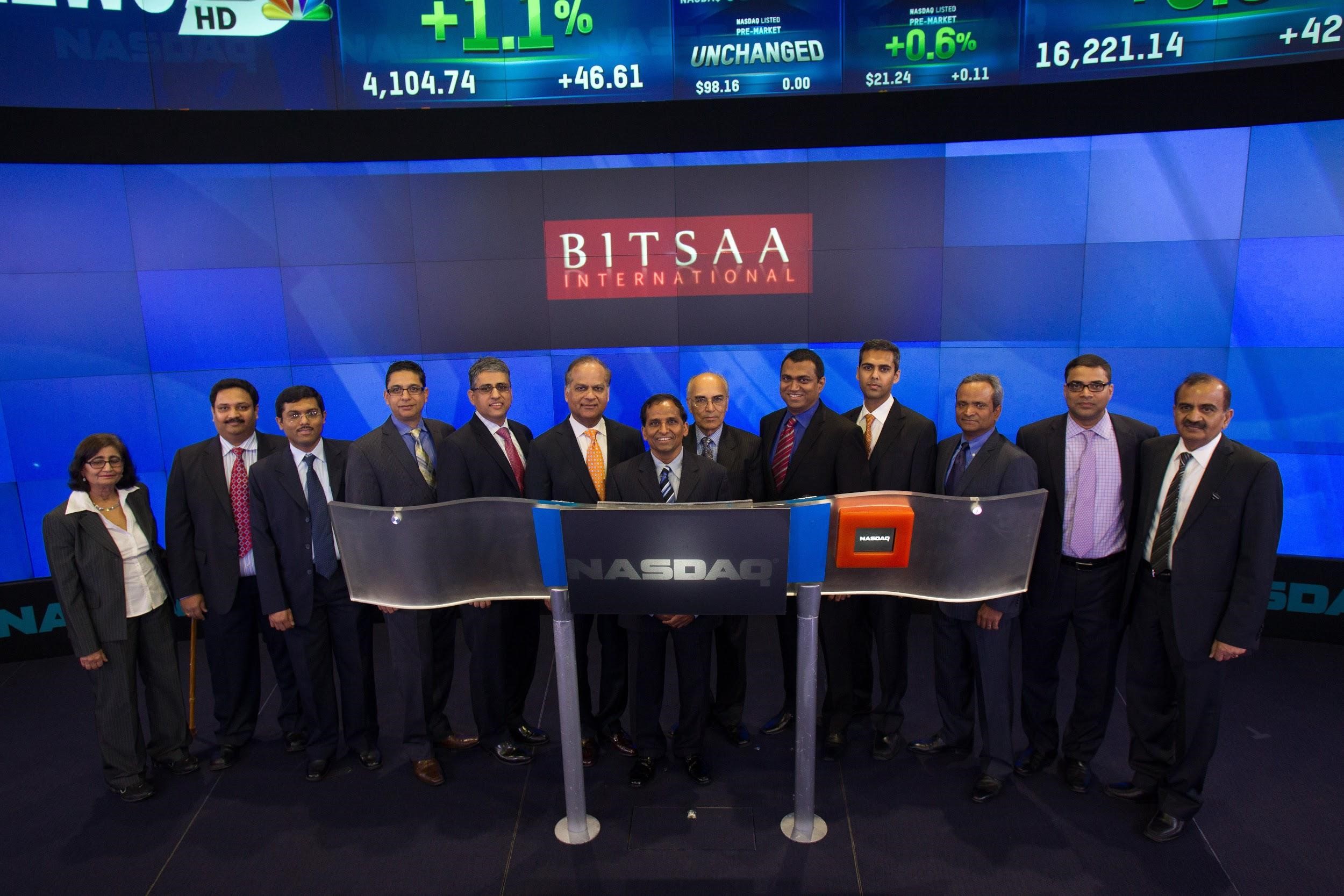 Here is what some prominent BITSians who attended had to say about the ceremony:
"The NASDAQ opening bell ceremony marks a milestone event for BITSAA. It symbolizes the recognition of the creativity and entrepreneurial spirit of BITS and BITS alumni around the globe making a difference in people's lives" – S.P. Kothari, deputy dean and Gordon Y. Ballard Professor of Management at Sloan School of Management, MIT.
"This is a very proud moment and is telling of the times where years of hard work and the resulting contributions of BITSians to the world community are beginning to be recognized. We have a very proud legacy that is great to see others share and admire"- Anurag Jain, Entrepreneur.
"This proud moment is ultimately a result of the joint effort go thousands of volunteers who have translated their passion for BITS into transformative projects over the years. Some of the recent projects like BITSConnect  2.0 are impacting the lives of thousands of BITSians every day, and our helping put BITS on the international map" – Shashikant Khandelwal, CTO, The Find
The coverage of the event can be found below.
https://www.youtube.com/watch?v=i8bcnilmHio