Keeping in mind its resolute mission to keep the alumni of BITS connected to their alma mater and to maintain the integrity and strength of the vast alumni community, BITS Alumni Affairs Division – Student Team Goa, conducted the Alumni Summit 2015 on the 30th of August 2015. It was a first of its kind event and witnessed speakers who had established themselves in various fields of life. They reminisced about their life back at the BITS campuses and their journey thereafter.
Seven speakers were invited to take the stage – Anugula Rakesh Reddy- a BJP Youth Wing politician and the founder of Nirmaan, Akash Gupta- the founder of Grey Orange Robotics, Jenish Mehta- a Graduate Student at California Institute of Technology, Ajay Chaturvedi- the founder of HarVa and a published Author, Nikita Bhardia- an MBA from IIM Ahmedabad and the founder of Udaan, Harish Sivaramakrishnan – the lead singer of the band Agam and Garv Malik- a stand up comedian and founder of OpenMics.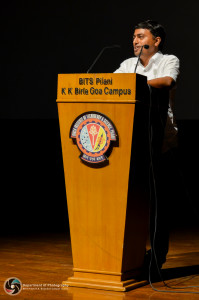 Anugula Rakesh Reddy, the first speaker spoke about how he joined politics after graduating from BITS. His experience at BITS in contesting elections, and his role as the General Secretary during his time at BITS motivated him to take up politics. He mentioned how the BITSian tag was special for him as it distinguished him from the crowd. He stressed on the need for educated people to take up the responsibility of changing the political landscape in India and talked about political entrepreneurship as a career.
He was followed by Akash Gupta who left behind enticing job offers from the USA, South Korea etc. and followed his heart into starting up a hardware product company. He spoke about his belief in taking risks and enjoying work, and how challenges are an important aspect in an entrepreneurial journey. Excerpts from his college life were a major part of his speech and he also talked about AcYut, India's first humanoid robot. He encouraged students to be passionate about their dreams.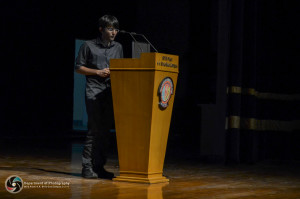 Jenish Mehta, a student of Theoretical Computer Science at California Institute of Technology took stage next. He walked us through his journey to Caltech and spoke about various aspects of Theoretical Computer Science and its applications. In surprisingly simple words he explained fascinating concepts such as zero knowledge proofs. He then moved on to say a few words about perseverance and effort, and how we must endure a lot of pain to succeed in the field we are truly passionate about.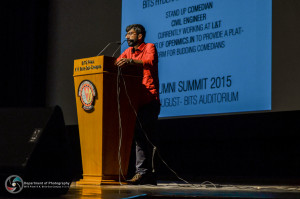 Having graduated very recently with a degree in Civil Engineering, Garv Malik could relate really well to the people in the audience. He described his journey in the eight semesters of BITS and jokes about how being a Civil Engineer enhanced his sense of humour. Stand-up comedy comes naturally to him. He started off by sharing jokes by gathering his friends and slowly, after a lot of experimentation, he managed to find his way into shows and flagged off his career in stand-up comedy. Even though he was not appreciated early on in his career, he didn't give up. Along with building his career as an artiste, he also established Openmics.in to provide a platform for comedians.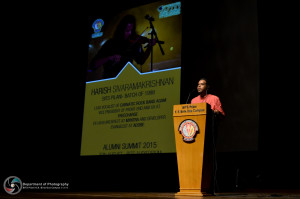 Harish Sivaramakrishnan, the voice of Agam, gave an inspiring speech sharing his experiences at BITS and after that. He narrated the story about how he discovered his passion for music and web page designing during his college years. Despite not having much interest in his own branch of engineering, he never got demotivated and instead found his salvation in creative areas like music. While his dream job offer from Adobe served as inspiration for all the students, his stint at Freecharge as its 4th employee caught the attention of the startup enthusiasts. His life story was summed up in a single line – "Do what you love in life, for if you love your work, it won't seem like a burden! Rather you'll enjoy doing it." In the end, he sang on public demand and that energized the atmosphere.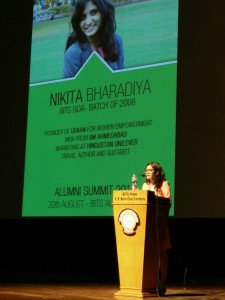 Nikita Bharadiya, a young and active alumnus of BITS Goa motivated young BITSians by throwing light on different aspects of her life. She was extremely motivated to crack CAT and had the exact percentile in her mind so that she works towards a specific goal. She explained how life at BITS Goa transformed her from a silent, shy person to a fearless young woman. She mentioned how she founded UDAAN for empowerment of poor and deprived women, the difficulties she faced and how she overcame those. She narrated the story of her first day at work after graduating from IIM-A, when she realized that though you have good degrees from reputed institutes to your credit you don't gain respect until you work hard and contribute to the company or association that you are working for.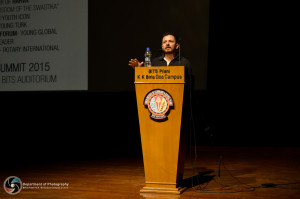 Ajay Chaturvedi was the final speaker at the Summit. Students were very curious to hear the story of the man who had made it so big in the corporate world, only to leave it behind to build his own startup. He shared his experiences at BITS and at Wharton, working as the director of Citi. The dot com bubble made an appearance in his speech. Finally, his experiences of going to the Himalayas and Kedarnath after hitting a rough patch in his life and how he found his guru there who inspired him to change tracks. From being an investment banker, he became the founder of HarVa- a BPO company empowering rural women. He ended the talk by launching his book-"Lost Wisdom of the Swastika" and answering students' queries.